Hello! It's me. I'm starting to get back on track now that Spring is here. I love the month of April. The weather gets nicer and I am out of my winter funk...hoooraaaah!
Anyhoo, I have some news about my
Etsy shop
...
I'm now carrying naturally dyed leather cord in sizes: .5, 1, 1.5, and 2mm! 15 beautiful colors.
I like the natural dyes with the leather. I think they work so well with handmade ceramic pieces. It also works with the Irish waxed linen thread for making bracelets - like this one for example...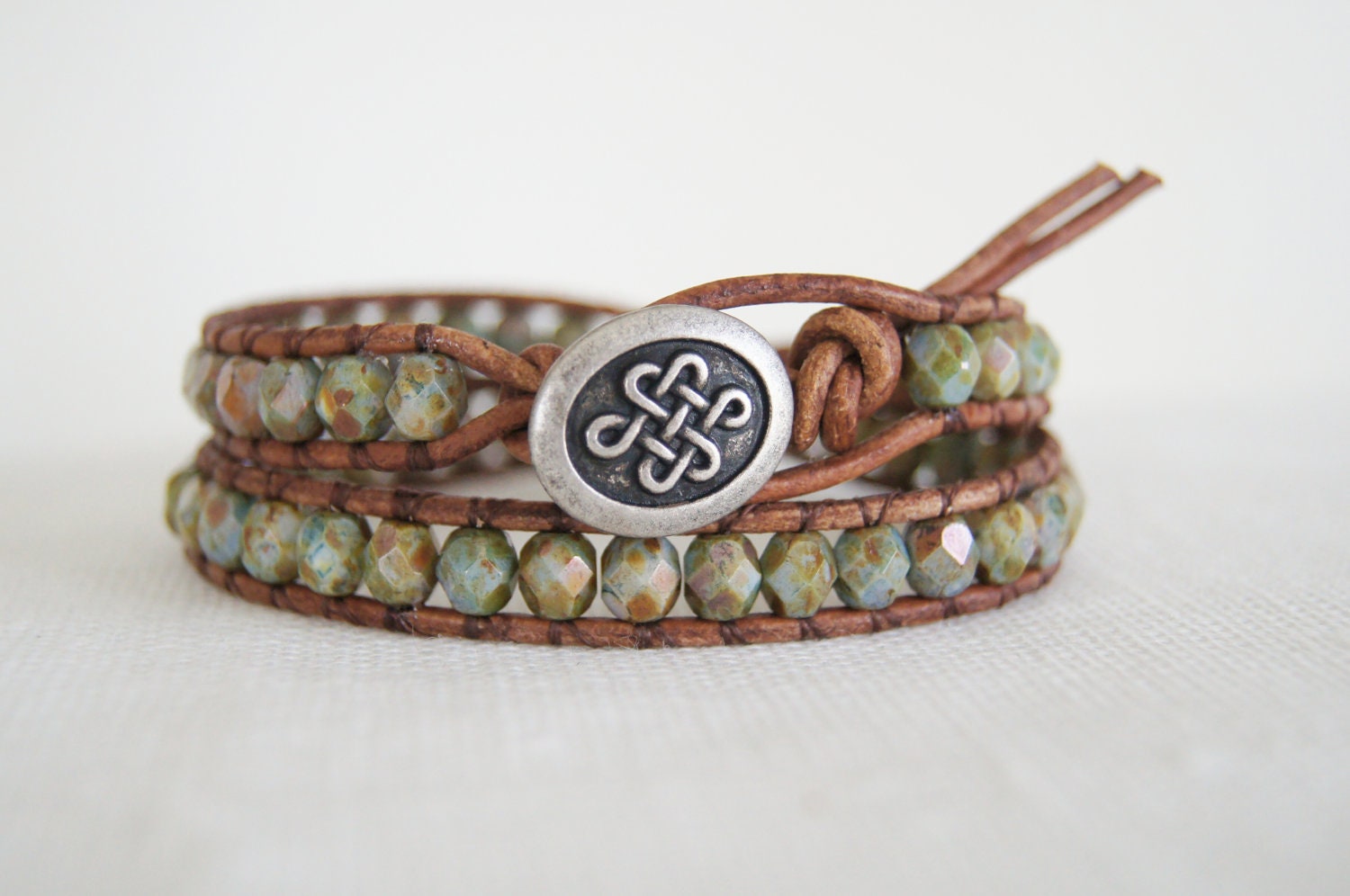 Here is the link to the YouTube Tutorial
I want to make several of these bracelets with my buttons, shank buttons, and big ceramic beads for the closure. I'm working on making groups of beads (enough to make a bracelet like this). I want to make two size bead groups - small and medium. I want to offer kits in the near future - using my handmade buttons/large beads and sets of my smaller beads it would make one of a kind bracelets - who wouldn't love to make one, right? These bracelets are so quick and easy to make they can be a bit addictive. They make great gifts, too, just sayin'... I like when the thread used with the leather is a contrast so I should be able to make a lot of combinations with 15 colors of leather and 36!! colors of the Irish Waxed Linen Thread don't ya think? Can't wait to start playing with this.
This morning I listed the .5 and the 1.5 in 12 colors - the rest of the colors and sizes will be listed later today. I'm expecting the shipment today, but I want to make sure that everything is there before I load the listings.
I also have three new colors of the 4ply Irish Waxed Linen Thread in the shop this morning!
3 beautiful Spring colors...
Green
Magenta
Lemon Yellow
I'm also making some new ceramic pieces. Spring inspired...flowering branches, birds, bees, etc. I ordered some new glazes but they are back ordered - boo hiss...Hopefully they will be back in stock soon - I don't do waiting well.
We are going to Gettysburg on Saturday. We (Mark and I with the kids) are going to do the whole tour the battlefield thing - it's been yeeeeeeeears since I have done that. Sunday is our 23rd wedding anniversary - zowie - I hope it's a nice day. I just want to have a fire out back and hang out (with a little lot of wine...)
We Mark just built this fire pit in our yard. A lot of landscaping yet to do. We Mark put down mulch so that it wouldn't be a muddy mess, but we need to get the stones. In the meantime, it's pretty awesome sitting out there with a fire.
And poor Howard is in recovery....sleeping in the sun trying to forget the trauma of the morning.
An apple fell off the counter - hit his food dish - crunchy nuggets went flying and so did Howard in a total panic melt down! lol Poor Poor Howard! Oh the trauma of it all...
Happy Thursday! Thursday already?!?